March 11, 2003
Flash Travel

I noticed Flash in a couple of places on my recent trip -- it was used to drive the departure displays at the United areas of the San Francisco airport, and later I randomly passed a cab with Flash running on a roof display in New York!
The airport displays show things like the weather at the destination, as well as boarding countdown and rotating list of people on the upgrade waiting list, which is updated every minute.
I actually didn't even know someone had put the Flash Player on taxicabs. Google found the story though -- a company called Clear Channel licenses taxi roof displays that can show dynamic Flash content. It's driven by a PC in the trunk, and can actually show live information received through a pager network. I took this snapshot when I noticed the cab. Pretty cool.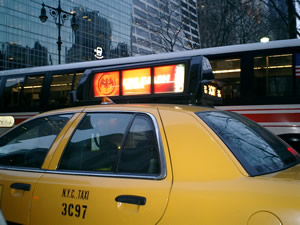 11 Mar 03 03:47 PM
Comments
Erik J. Barzeski says:
Kevin Lynch says:
Dayment says:
Digitalboy(china) says:
Comments on this entry are now closed
You can of course make comments in your own blog, and Trackback continues to be available to reference your post here.