March 12, 2003
Paper Prototyping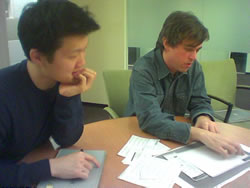 This is a photo of a design meeting in my office. One technique we use in designing software is "paper prototyping", which uses mocked up user interface elements on pieces of paper to discuss interaction. It can be used to explore with one person pretending to be the computer, moving the user interface around, as someone else points at elements to interact. It's a really quick, low cost way to get a feel for how well things will work and surface issues in a design.
Finding problems early in product development is incredibly important -- the cost of fixing a problem goes up exponentially further along in development. It's cheapest to fix problems when it's just a matter of throwing a piece of paper away or scribbling on it..
12 Mar 03 09:19 PM
Comments
Peter Lindberg says:
John Kranz says:
Andrew Stopford says:
Scott Fitchet says:
Andrew says:
posicionamiento says:
Andrea says:
James Landay says:
Comments on this entry are now closed
You can of course make comments in your own blog, and Trackback continues to be available to reference your post here.