April 13, 2003
Toronto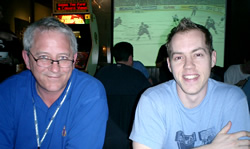 I'm now in Toronto for the Flashinthecan conference, and will be speaking tomorrow morning. You can tell it's Canada since CBC is playing hockey news in the background behind Tom Green and Colin Moock.
I've been very occupied the past couple weeks trying to keep up on communication after the announcement of Central. We've had a few thousand requests for the beta SDK so far, though we'll need to start small with the beta to make sure we can support it well and then will grow it as we get experience. It's totally exciting that there is a lot of interest -- I hope we will see a lot of applications get created.
13 Apr 03 08:41 PM
Comments
michael heraghty says:
Kevin Lynch says:
Han Zhao says:
mia says:
John Kranz says:
Rp says:
John Dowdell says:
Kevin Lynch says:
John Kranz says:
Tealgirl says:
Rp says:
Daine Portman says:
Comments on this entry are now closed
You can of course make comments in your own blog, and Trackback continues to be available to reference your post here.