October 26, 2004
Future Flash Player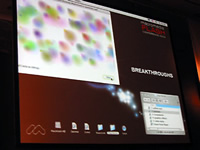 I was at the Flash Conference 2004 in Tokyo last week and gave an early demo of some of the capabilities in the next generation Flash Player (code named "Maelstrom").
Colin Moock was there and captured the demo on video. I normally talk about twice as fast as you'll hear in it, but needed to slow down for translation to Japanese (you can hear the translation happening in the background a bit).
While this demo doesn't yet show all the new things we're working on, you can see that there's a big focus on performance and expressiveness.
What's shown:
New text rendering, code named "Saffron": this new text renderer will bring extremely sharp text display to the Flash Player, and I think it looks even clearer than ClearType.
Significant performance improvements: one of these is the addition of bitmap caching, which enables graphics and components to be displayed much more quickly. In the demo (shown on a Mac), some moving components jump from about 14fps to 125fps.
Realtime graphic effects: an array of new effects are being built into the Flash Player to enable rapid display and to keep content download size small. These effects include things like glows, blurs, drop shadows, color matrix, and others. They can be applied live to any objects in Flash, including graphics, text, and even video. Since these are applied live, they can react interactively and also reduces authoring time as it eliminates several post-processing steps in Photoshop or Fireworks that are required to achieve these effects today.
Realtime video alpha channel: video will have the added capability of a transparent alpha channel, enabling live composition of non-rectangular video on top of background elements (even other background video).

Overall I believe this is shaping up to be the most significant Flash Player release ever. There will be another demo of the future Flash Player in the keynote at the Macromedia MAX conference next week.

26 Oct 04 10:10 AM
Comments
Ernst Persson says:
Kevin Lynch says:
Comments on this entry are now closed
You can of course make comments in your own blog, and Trackback continues to be available to reference your post here.