November 15, 2004
Making Rich Internet Apps Web-Friendly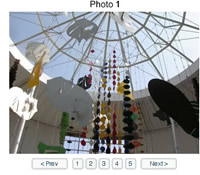 As rich internet applications proliferate, they are moving more processing to the client rather than relying completely on the server for application logic. This is a much more efficient architecture for applications on the web, as it distributes the computing load better and provides a more responsive experience for users.
One of the side effects is that the current state of an application is not displayed in the browser's location URL, since RIAs don't need to make server requests for every user interaction like traditional HTML applications would. For example, selecting a book at Amazon.com currently displays a URL with a lot of application state information:
http://www.amazon.com/exec/obidos/tg/detail/-/0262620952/qid=7556/
sr=1-1/ref=sr_1_1/102-5500034374543/102-0044014-6974543?v=glance&s=books
This is referred to as a REST (representational state transfer) architecture. A lot of this information is not very human readable, but embedded in there is the ISBN number for the book: 0262620952. Placing the state in the URL is useful in a couple ways: other internet applications can integrate with Amazon using a book's ISBN number to show books, and people can get the ISBN number from the current Amazon URL and do other things with it such as Jon Udell's Library Lookup bookmarklets which show whether the book is available at your local library. Recently Jon posed a question: can rich internet apps can be web-friendly in this way?
I believe the answer is yes -- this weekend I created an example showing how rich internet applications can display their current state in the URL as the user interacts locally. This enables a user to bookmark a particular state in the local application, and also enables rich internet applications to be composed with others through REST.
I've also posted the source code for the example, so you can see how it works. If you're developing applications in Flash or Flex I encourage you to display useful state information in this way so others can easily integrate and leverage your application with theirs across the internet.
15 Nov 04 09:26 AM
Comments
Kenny Bunch says:
Igor Costa says:
Kevin Lynch says:
Tony Pimm says:
Bruce Landon says:
Kenny Bunch says:
Jon Udell says:
Tony MacDonell says:
Manish Jethani says:
Kevin Lynch says:
Scott Hanselman says:
Comments on this entry are now closed
You can of course make comments in your own blog, and Trackback continues to be available to reference your post here.